This Ogri'la reputation guide will get you started with the rep grind, gaining access to new rewards and daily quests. You can get a head start during TBC Classic Phase 1, completing a series of group quests to reach neutral with the faction. The reputation rewards are more aimed at non-raiding players and alts. Players who have been raiding for weeks during Phase 1 will find the items lacking.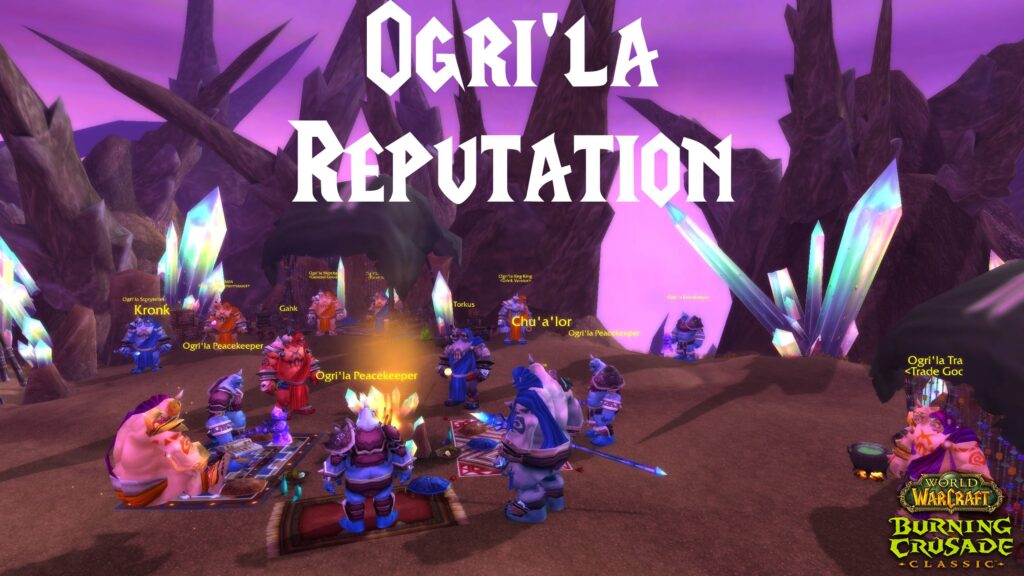 Ogri'la is a group of friendly ogres in Blade's Edge Mountains. Under the influence of the Apexis Crystals in the area, they have become less brutish. They are battling the Burning Legion, who are after the crystals for themselves and their allies, the Black Dragonflight. The Ogri'la is being aided by the Shattari Skyguard, the other daily content faction coming in TBC Classic Phase 2.
Flying Required | Reputation Rewards | Depleted Armor | Earning Rep
Apexis Shards & Crystals | Shartuul's Transporter | Bash'ir Landing Raid

Check out the Burning Crusade Classic Phase 2 Quick Start Guide
---
Level 70 & Flying Mount Required To Gain Ogri'la Reputation
Ogri'la is along the western edge of Blade's Edge Mountains. It is initially only accessible via flying, though the Shattari Skyguard can transport you after reaching honored with them (which also requires flying). Faster epic flying mounts are not required.
Level 68 druids with flight form and players summoned by a warlock can access the area. But the initial quest requires level 70, so don't plan on skipping ahead while still leveling up.
The nearest flight point for Alliance is Sylvanaar, and for the Horde is Thunderlord Stronghold.
---
Ogri'la Reputation Rewards
For raiders, the rewards will be of little interest. The epic items are ilvl 105, compared to ilvl 110-115 for Badge of Justice rewards and ilvl 115-125 for Karazhan loot. The area and rewards were originally designed as a catch-up mechanism for newer players and alts, while regular raids went into Black Temple.
---
Depleted Armor
Depleted armor pieces can drop from the elite mobs in the area and can be obtained by completing the Legion Ring event once you reach honored. When combined with 50 Apexis Shards they created a piece of armor or weapon. Most are blue quality, with two epics available. But all are BoE, allowing them to be sold or traded.
---
Earning Reputation with Ogri'la
All reputation gains are through quests and daily quests only, no grinding.
Getting Started
You can do the initial phase of quests during Phase 1 of the Burning Crusade Classic.
Speak with V'eru, a Nauru near the center of Shattrath City, and accept the quest Speak with the Ogre.
Following the quest series to Blade's Edge Mountain and complete the quests offered by Mog'dorg the Wizened. Two of the three original quests are in Blade's Edge Mountains, while the third is just outside Shattrath City.
Complete two more group quests (the same group can knock these all out). In the end, you will become neutral with Ogri'la.
Neutral to Honored
Speak to Mog'dorg the Wizened to receive Ogre Heaven. This quest will be unavailable until Phase 2 begins.
This quest series will introduce you to the Ogri'la area and open up the initial set of daily quests. Go through all available quests and repeat the three daily quests as needed to reach honored.
Daily quests:
Upon reaching friendly the quest A Special Thank You becomes available, offering a one-time sack of lackluster consumables.
Honored to Exalted
Upon reaching honored the quest Banish the Demons becomes available. Once completed it turns into a new daily quest.
Daily quests:
How Long Until Exalted
Completing all quests and all available dailies each day, it will take about 30 days to go from neutral to exalted with Ogri'la.
You will earn a bit under 1000 gold from money awarded by the regular and daily quests over that 30 day period.
---
Apexis Shards & Crystals – Source and uses for Ogri'la Reputation
Apexis shards and crystals are the primary currency used with Ogri'la. They are also required for certain quests, events, and converting depleted items into usable items.
Apexis Shards
Apexis Shards come from many sources, so much so that farming them directly usually isn't necessary. Various mobs in the Blade's Edge Plateau area will drop shards. They can be gathered from crystal formations on the ground. And completing daily quests will award you with 15 shards per quest.
A few Ogri'la and Shattari Skyguard quests require shards, but only around 105 in total and not all at once.
Shards are primarily used to buy reputation items from Ogri'la, transform depleted items into useful items, and buy items from the Legion Ring event vendors.
You'll need 35 shards to activate certain events, especially those offering Apexis Crystals.
Should you find yourself holding more shards than you need you can trade them in for 2.3 silver each:
Go to the Ogri'la quartermaster and buy either the blue or red ogre brew for 3 shards.
Sell the brew back to the vendor for 6.9 silver.
Apexis Crystals
Apexis Crystals are only a useful currency if you plan to buy any of the blue or epic items sold by Ogri'la. Or you if want to buy a geode that has a chance of containing similar level blue items from the Bash'ir Landing Raid event. They are not required to complete quests or buy consumables.
Deathwing Brood Cloak
The best way to farm Apexis Crystals, as every group member gets one with equal effort and the total cost of Apexis Shards is lower.
With a small group go to the nests of Obsidia, Rivendark, Furywing, and Insidion. Spend 35 Apexis Shards on an egg in each nest to summon the dragon. Each dragon will drop a different scale, one for each party member. Once you have all four scales use them to create a Deathwing Brook Cloak with random stats. Take your cloak to Sky Commander Keller and you can trade it in for an Apexis Crystal.
Nests' coordinates:
Rivendark: 27, 64.8
Obsidia: 33.8, 54.6
Insidion: 62.9, 7
Furywing: 66.9, 14.6
Fel Crystal Prism
The second best way to farm Apexis Crystals. A group can farm up one for each member, but it'll cost a bit more total Apexis Shards.
With a small group go to Forge Camp: Terror or Forge Camp: Wrath, each has four Fel Crystal Prisms available. Click on a prism and spend 35 Apexis Shards to summons one of four elites. Kill the elite and it'll drop an Apexis Crystal. The group can repeat this, but each prism goes into a cool-down cycle after being used. So plan to rotate between the other prisms.
Apexis Monument
This boss kill is the objective of Guardian of the Monument but can be repeated without the quest.
One player must spend 35 Apexis Shards to start it off. At least 2 players (4 is easier) play a version of the classic Simon color game. Once done the Apexis Guardian spawns kill it and it'll drop an Apexis Crystal.
Proton Accelerator Controller
With a small group to go Bash'ir Landing and use an Accelerator Module with a Proton Accelerator Controller. This will summon one of two bosses, Bash'ir's Harbinger or Bash'ir himself. They are infamous for their spell reflect ability which often crits players.
The steps required to get an Accelerator Module make this the worst farming option for Apexis Crystals.
---
Legion Ring/Shartuul's Transporter Event After Honored Ogri'la Reputation
At honored, you can complete the Legion Ring event. A difficult solo event with the chance of awarding you with a depleted item or an epic ring.
Getting Started
Completing the daily Banish More Demons has a chance to award you with a Darkrune or Darkrune Fragment. Five fragments can be turned into a Darkrune.
Turn in a Darkrune to Gahk to receive a Crystalforged Darkrune.
Head to Forge Camp: Wrath and to the south is the Shartuul's Transporter. Use the Crystalforged Darkrune to take control of the Felguard Degrader. Make sure your pet bar is accessible if you use a custom UI.
The Event
The event involves you controlling three different demons along with different phases. Your goal is to spawn and defeat a series of bosses without your own demon being destroyed. Be sure your pet bar is accessible if you use a custom user interface.
Wowpedia has a good guide that goes over each demon and its phases.
---
Bash'ir Landing Raid
Every two hours the Skyguard launches an attack from Ogri'la to Bash'ir Landing. Three waves of enemies will spawn and attack the Skyguard NPCs. If they are killed the event ends.
The Event
Stage 1 – Non-elite fleshbeasts will move in to attack. New ones will continue to spawn for 1-2 minutes. In the end, Bash'ir Flesh Fiend spawns and must be killed to spawn the first vendor. This stage typically requires a small group to complete.
Stage 2 – Three elite Disruption Towers spawn and attack with launched AoE targeting both NPCs and players. The towers must be destroyed to complete the stage. A 10-man raid can get the job done, but more is generally recommended.
Stage 3 – Shortly after the towers are destroyed the final boss will spawn, The Grand Collector. He used strong AoE and will split into three during the fight. Once killed the final vendor will appear. Again, a full 25-man raid is generally recommended.
You do not need to be in the tagging group to access the NPC vendor when it spawns, though the final boss does have a chance to drop new jewelcrafting recipes. So a large enough group of random players can complete the event, granting everyone access to the vendors.
The Vendors
When the boss at the end of each wave has been killed a vendor NPC will appear, selling rare items for Apexis Shards.
Stage 1 Complete – Aether-tech Assistant
These flasks last for 2 hours and persist through death, but only work in Blade's Edge Plateau or Gruul's Lair. They are tradable.
Stage 2 Complete – Aether-tech Adept
Every gem BoP and unique-equipped.
Stage 3 Complete – Aether-tech Master
The small geodes contain a class-appropriate set of rare gloves, while the large geodes have a similar helm. Stats on all items are random, and the armor pieces are bind on pickup.